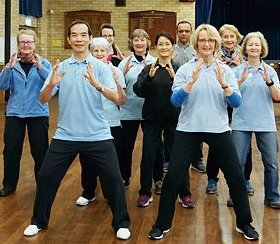 Tai Chi (single class)
$15.00
Product Description
Join Certified Tai Chi for Health Instructor, Kaitlyn Beiser, for a tai chi class! Classes meet weekly beginning June 6, 2022.

Time: Tuesday's
5:00-5:30pm - New or Beginner
5:30-6:15pm - Level 2

Location: 1117-N. Badger Ave, Appleton, WI. Weather permitting, we may move outdoors.

Originating in ancient China, tai chi is one of the most effective exercises for health of mind and body. Although it's an art with great depth of knowledge and skill, tai chi can be easy to learn and soon delivers its benefits. Movements are fluid, graceful, circular and slow. Breathing is precise helping to relax the body.

Practicing tai chi has been shown to improve stress levels, balance, flexibility, pain / stiffness, joint stability etc. These classes are suitable for people of all ages and fitness levels. Although minimal stress is placed on muscles and joints, every individual is different, so we provide modifications as needed and encourage participants to honor their own body.

Additional Information:
- No equipment necessary to participate
- No prior experience needed
- Membership option available (save $)!

**3.7% card convenience fee added to overall pricing with this payment method. Thank you for your patience & understanding!