We believe: First support the mitochondria, then promote the body's natural detoxification processes (Phase 1) and the removal of harmful stressors (Phase 2).
Phase 1 - Prepare & give your body a jump-start.
PROTOCOL 1: 30-DAY ENERGY, GUT & IMMUNE SUPPORT
Why the Cellcore Jumpstart Kit?
Ignite your wellness journey with the Cellcore Jumpstart Kit. Mitochondria "turn on" and signal for each organ to work and function. They play a massive role not just in your energy levels, but your ability to detoxify, digest food, eliminate, fight illness and pathogens, heal and repair, remember information, etc. If the mitochondria are damaged, your entire body is impacted.
A valid Practitioner account is required for direct purchases. You're in the right place - we're Practitioners! Let's get you registered so you can receive your Patient Direct code. 
It's simple. Once you register for Phase 1, you'll be contacted by a Practitioner who will take a quick assessment to determine if this is the best next step for you, and you'll receive your patient code to purchase your kit. *This is a one-time process. Once you're registered with your patient code, you'll always be able to access product information & purchase freely.
What's included in the Cellcore Jumpstart Kit?
BC-ATP: A powerful supplement for supporting mitochondrial function. When the body has the nutrients it needs to support mitochondria and ATP output, clients can experience improved cognitive function, mental clarify and focus, and sustained physical energy.
The highly charged organic acids support metabolism and the ATP cycle in being at peak efficiency. These carbons also assist in the body's natural detoxification processes, contribute to a balanced gut microbiome, aid cellular renewal, and support immune health.
KL SUPPORT: Combines herbs and nutrients traditionally used to support kidney and liver health, including beetroot, collinsonia (stoneroot), gynostemma, marshmallow root, milk thistle seed, NAC, and parsley leaf. Together, these aid fat metabolism, hapatic blood flow, and healthy urinary tract and bladder function, while helping the body carry out its natural detoxification processes.
BIOTOXIN BINDER: Aids the body's natural ability to detoxify. It lends increased support to the gut microbiome, which optimizes immunity and digestive function. The addition of Carbon Technology also supports cellular repair and increased energy production.
BioToxin Binder is an ideal first-step detoxification support supplement. We recommend taking it prior to other binders.
CT-MINERALS: Support your body's daily micronutrient needs for optimal cognitive function, energy production, immune function, mental clarity, nervous system support - and to enhance your overall feeling of well-being!
Each capsule provides minerals derived from fulvic acid, which is sourced from the soil and decomposed plant life. Fulvic acids naturally contain trace minerals and are typically easier to the body to digest, absorb, and utilize.
In addition to their trace mineral content, fulvic acids help nourish the gut microbiome, support gut function, and may help assist nutrient absorption from other foods and supplements.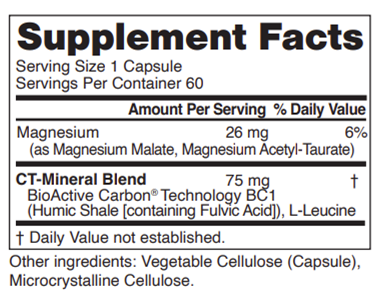 *Note: These statements have not been evaluated by the Food and Drug Administration. These products are not intended to diagnose, treat, cure, or prevent any disease. Check with your healthcare practitioner if you are nursing, pregnant, are under 18 years of age, or following a doctor-prescribed protocol.
PROTOCOL 2: 30-DAY JUMP-START INCLUDES 4-7 DAY CLEANSE SYSTEM
Why the TLS Jumpstart Kit?
The TLS Jump Start Kit is designed to help you refresh your system and get back on track in your health and wellness goals. Simplify the process by getting your kit so you can jump-start your results!
First, you'll start by following the Nutriclean 7-Day Cleansing system. This is vital because priming your metabolism with a gentle detox/cleanse may increase your efforts. You can expect to eat and hydrate during this 4-7 day cleanse. A menu and recipe booklet will be provided. Another powerful product you will use is the TLS CORE, which helps keep you on track and away from unhealthy foods.
For further support during cleanse, we've included the Isotonix Daily Essentials packets so you can be sure you're giving your body essential vitamins, minerals and nutrients it needs.
To help round out your nutritional needs, the second step of your Jump-Start includes the TLS Nutrition Shakes. The shakes provide additional protein to fuel your body and keep those hunger pangs at bay. We recommended continued use of the Daily Essentials packets for continued support. **Your coach may instruct you as to how you may enjoy the shakes during cleanse / detox.
What's included in the TLS Jumpstart Kit?
NUTRICLEAN 7-DAY CLEANSING SYSTEM: A gentle, colon and liver cleanse that's great for beginners and beneficial for anyone to use several times per year to "keep the pipes clean" and promote optimal weight and fitness goals.
The Nutriclean Cleansing System uses exceptional herbs, botanicals, fibers and extracts to detoxify, cleanse, and purify the digestive tract and liver. It helps the body eliminate potential or accumulated toxins. This 3-step process only requires 4-7 days to cleanse your digestive system, helping to support colon health by combatting the effects of poor diet and environmental toxins.
The three components to the Nutriclean 7-Day System work in tandem to help cleanse the digestive system as it flushes out the colon and supports the body's natural processes of restoration and cleansing.
Nutriclean HepatoCleanse: helps cleanse the liver.
Nutriclean Release: helps cleanse the gastrointestinal tract and enhances peristalsis.
Nutriclean Advanted Fiber Power w/ Stevia: Provides fiber and beneficial bacteria to the colon.
TLS CORE FAT & CARB INHIBITOR: Do you feel like you're always hungry and never full? Have you tried other products on the market but still struggle with your weight? If so, you may be dealing with leptin sensitivity. Leptin is the hormone that, in essence, tells our brain when to eat, how much to eat and when to stop eating. TLS CORE was created to deal specifically with the weight management issues related to leptin sensitivity. It's one of the few products on the market to deal with this issue. 
It works in three specific ways - First, it may help with appetite suppression with the help of Lepticore, a clinically proven, patent-pending all-natural ingredient designed specifically to promote healthy weight management. Next, TLS CORE inhibits the amount of starchy carbohydrates being absorbed by the body. These carbs can elevate blood sugar levels, increasing insulin. This can cause the body to store additional fat, triggering leptin, causing you to eat and over-consume. Finally, it helps to stop the body from converting excess carbohydrates into fat.
ISOTONIX DAILY ESSENTIALS PACKETS: Convenient on-the-go packets with four essential customer favorites in an isotonic-capable drinkable supplement! This means it's not only easy to swallow (and easy on the stomach), but also immediately available to the body for absorption.
Isotonix OPC-3: The most powerful antioxidant supplement on the market today! It helps maintain healthy cholesterol & blood glucose levels, healthy circulation and blood vessel dilation. Talk about an awesome secret weapon for recovery!
Isotonix Multivitamin: Get total nutrition & support nutrient deficiencies! This multivitamin contains 100% or more of the Recommended Daily Value of essential vitamins and minerals.
Isotonix Activated B-Complex: Boost (and actually absorb) your B vitamins! Our active (methylated) form of vitamins B6, B12 and folic acid will help fuel optimal energy production, improve mood by maintaining healthy levels of serotonin (thereby decreasing stress too!) and promote a healthy nervous system and cardiovascular health.
Isotonix Calcium Plus: Essential for maintaining strong bones, health teeth and gums. This calcium is superior in that it has the correct complimentary ingredients so ensure the calcium gets to your bones.
2 TLS SHAKES - 1 VANILLA & 1 CHOCOLATE: Improve your metabolism by having a quality nutrition shake on hand that tastes great and is formulated to provide a mix of vitamins, minerals, protein and fiber! One serving provides 19 grams of protein, 10 grams of fiber and 24 essential vitamins and minerals.
Tastes great even with just water - but feel free to mix with your favorite beverage since it mixes well.
*Note: These statements have not been evaluated by the Food and Drug Administration. These products are not intended to diagnose, treat, cure, or prevent any disease. Check with your healthcare practitioner if you are nursing, pregnant, are under 18 years of age, or following a doctor-prescribed protocol.
Also included with purchase of either Phase 1 Protocol:
BOOKLET & TRACKING SHEETS
MENU & RECIPE BOOKELET
DOSING SCHEDULE & PROTOCOL INSTRUCTIONS
1-WEEK COACHING & COMMUNITY SUPPORT WITH DAILY TIPS, MOTIVATION & SUPPORT! 
Phase 2 - Remove harmful elements & immune system cleanup.
PROTOCOL 1: 30-DAY SYSTEMIC DETOX
PROTOCOL 2: 10-DAY FULL MOON CHALLENGE
*Registration for Phase 2 protocols with guided coaching COMING SOON.